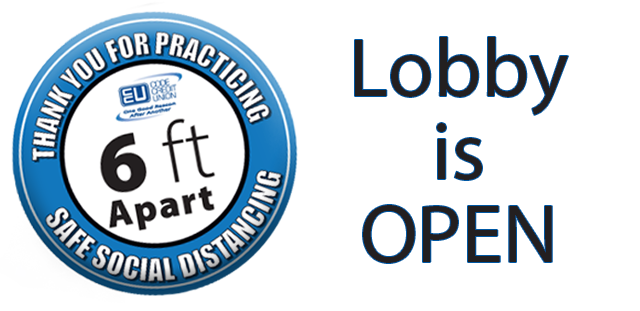 At CODE Credit Union, we are focused on continuing to serve our members. However, we are also focused on putting practices into place to protect our staff, our members, and limit the spread of this virus. We are closely monitoring the COVID-19 situation and taking guidance and recommendations from national, state and local health agencies.
CODE Credit Union lobbies have re-opened with normal business hours!
Due to a reduced number of members allowed in each branch at a time, it may be necessary to make an appointment for new account and loan services. Call 937-222-8971 to make an appointment.
If you need to enter the lobby, here is what you will notice:
CODE Credit Union employees will be wearing a face covering.
Germ guards have been installed at the teller lines
Hand sanitizer wall units have been installed
Lobbies will be marked to encourage members to practice social distancing. Maintaining 6 feet apart continues to be the recommendation from national, state and local agencies.
Each lobby has a maximum number of members allowed to be inside at a time. This will be posted at each location.
We encourage members to wear a face covering.
The NO hats, NO hoods, NO sunglasses policy remain in effect.
Lobby furniture has been reconfigured to adhere to social distancing standards
Public restrooms will be closed
Public water and coffee stations will be closed
Pens, counters, ATMs, night drops, desks, door handles are being sanitized in regular intervals
Loan and new account services may require an appointment
Appointments will take place in a designated place or curbside, when possible.
CODE staff will be practicing safe social distancing and refraining from hand shaking, etc.
Please continue to utilize drive through, ATM and night depository access whenever possible.   These are the safest ways to do your banking:
Drive through is available at Monument Ave and Englewood locations.
Night depository is available at all three locations.
ATM access: CODE Credit Union provides surcharge free access at thousands of ATMs nationwide. Click on the link below to find an ATM near you.
Find a surcharge free ATM through Alliance One®
Find a surcharge free ATM through CULIANCE®
Utilize CODE's 24/7 account access options (www.codecu.org) to check balances, transfer funds and deposit checks:
Mobile Banking App including Mobile Deposit – if you have not used Mobile Deposit, get enrolled and ready to go so you can Snap, Tap and Deposit whenever you need to. Learn More
Access 24/ online banking
Online Bill Pay
PAT (Personal Audio Teller) 937-222-4PAT
If you are not enrolled in Access 24/online banking or Mobile Banking and you need assistance with the process, our Call Center is open and ready to serve you Monday-Friday from 8:30-5:30. Call us at 937-222-8971.
What we are doing to protect the health of staff and members:
We are working with our cleaning partners to be more diligent at disinfecting all traffic areas and maintaining a safe environment for staff and members.
Per the CDC's recommendation, our staff is taking steps to practice good hygiene in our branches including:
Disinfecting surfaces at regular intervals.
Washing hands and/or using hand sanitizer after each interaction.
Facilities are being deep cleaned by a professional cleaning service weekly
We are encouraging staff and members to stay home:
If exhibiting the symptoms including fever above 100.4 F, excessive cough, prolonged headache and/or excessive nasal congestion.
Until fever free for at least 24 hours without the use of fever reducing medications.
Infrared thermometers are being utilized to check employee temperature at the beginning of each day.
For information on ways to prepare your household:
Protect yourself from cybercrime:
Make sure you receive news and information about COVID-19 from official sources like the U.S. Center for Disease Control or the World Health Organization. Please be aware of cybercriminals using this time to create scams in an attempt to steal your personal information or infect your devices with harmful malware. For example, there has been a recent report of a fraudulent email that appeared to be from the CDC Health Alert Network claiming to provide a list of local cases. To access the list, recipients were instructed to click on a link in the email and then input personal information. As always, DO NOT SHARE YOUR PERSONAL FINANCIAL INFORMATION with anyone who contacts you requesting it.
While it is impossible for anyone to predict the spread of the coronavirus and fully understand its impact, our focus is on serving our membership. We have the people, technology, products and services in place to continue our vision of making members' financial lives easier.
Thank you!
Scott Rutherford
President and CEO
On behalf of the CODE Board of Directors